New Cavallo Trek boots are lighter than the Simple and Sport boot models.  They have a slightly lower profile and the front and come in a little closer around the pastern.  The use the same proven quality sole as the Simple and Sport, with leather lining for the heel bulbs, but the outside is made of tough Pro Mesh moulded TPU.  There is no left or right and they are sold separately, so can accommodate horses with different sized hooves.  They come in both 'regular' (same size as Simple), and 'narrow' (same as Sport being 5mm narrower in the width).
Cavallo horse boots are easy to size, easy to fit and easy to care for. Shaped to fit the natural horse hoof and promote healthy hooves while allowing for expansion and contraction of the hoof and are suitable for front and rear hooves.  The Simple Hoof Boots, Sport Hoof Boots and Trek Hoof boots are great for mountain horse riding!
Cavallo is a trusted name in the horse industry, quality you can trust.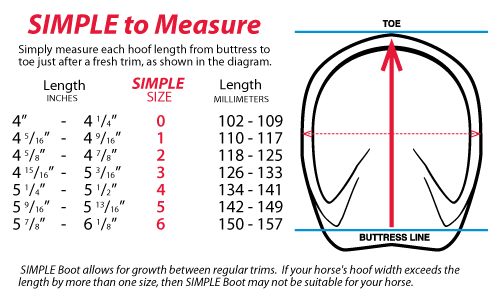 Cavallo BFB (Big Foot Boots) in sizes 7, 8, 9 and 10
Size 7 fits a hoof measuring 158-165mm
Size 8 fits a hoof measuring 166-173mm
Size 9 fits a hoof measuring 174-181mm
Size 10 fits a hoof measuring 182-189 mm