Product Description
First Aid protection for hooves, giving sole protection.  Quick and easy to apply, HorseCrocz are robust and ideal to use over dressing when turning the horse out.
HorseCrocz can be reused many times, and are flexible in their fit offering 3 sizes, below is a guide only:-
Small 12.2hh approx – hoof with dressing measuring 90mm – 125mm max
Medium 12.2hh – 15.2hh approx – hoof with dressing measuring 115mm – 140mm
Large 15hh up – hoof with dressing measuring 140mm – 205mm
Each HorseCrox comes with 5 ties, and additional ties can be purchased.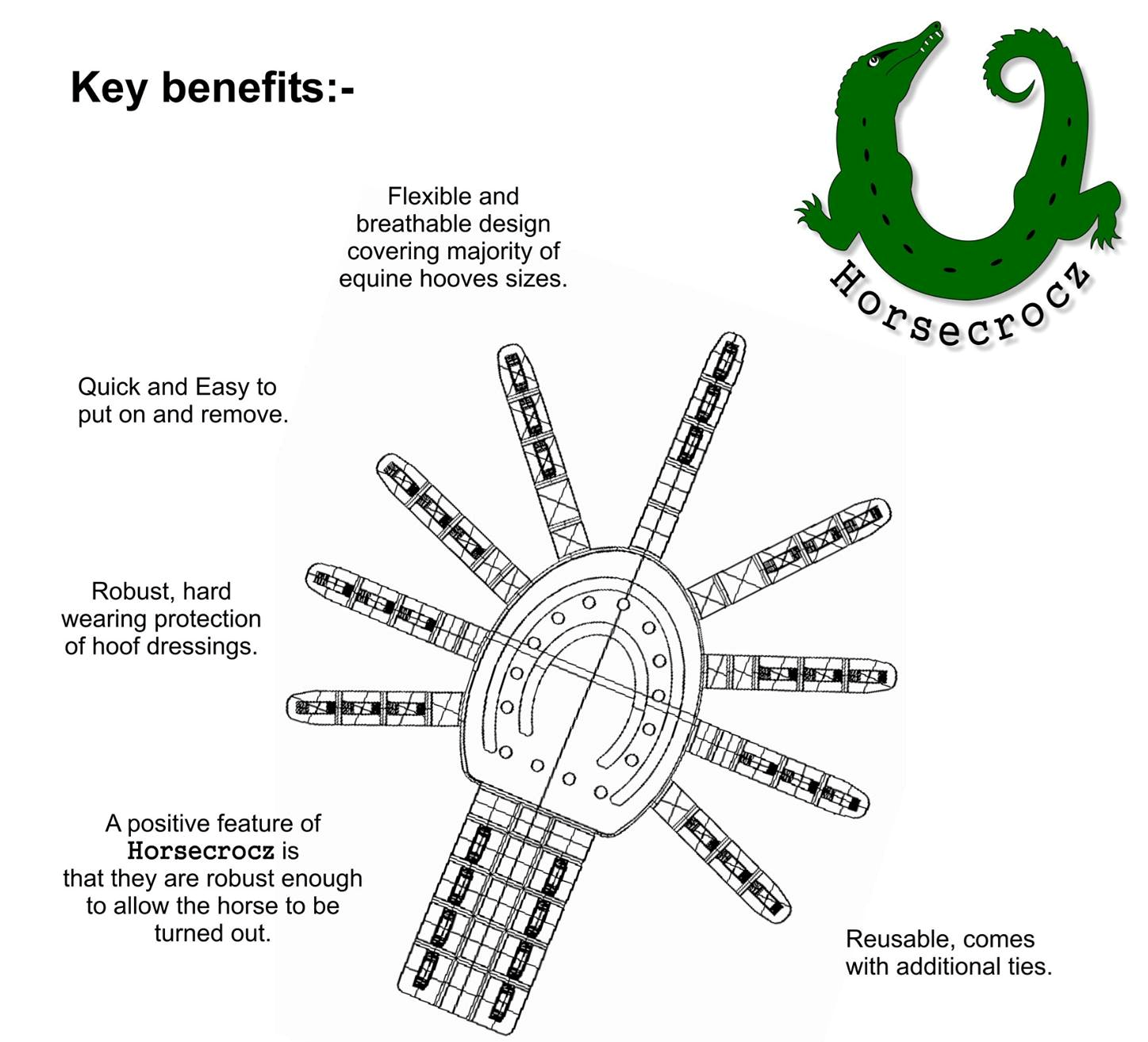 Measure hoof with the dressing on, across the widest part, the fitted Horsecrocz should have the tie fitted approximately 2/3rds of the way up the hoof.
150 mm thread tie through bottom tabs
180 mm thread tie through middle tabs
200 mm thread tie through top tabs
Thread tie through selected tabs with smooth side facing up. Starting with the slim tab nearest to the heel and finish with the wide tab at the back
Do not pull tie tight, allow enough diameter to allow placing over the hoof with dressing in place.
Place hoof into the Horsecrocz, fitting it so that the heel portion is resting against the bulbs of the heel.
If the tie is not already threaded through the fastener of the tie, do so now.
Pull the tie so the Horsecrocz is fitted securely.
Ensure that the Horsecrocz does not rest or place pressure on the coronary band.
Move the finger portions of the Horsecrocz so that the are evenly placed around the hoof
To remove the Horsecrocz, carefully cut the tie and remove.